Friday, September 02, 2016 / by Melanie Lanteigne
Just because you read something on the internet does not mean it is true. The same can be said about something you may hear a co-worker or family member conversing about.
Real estate myths are all too common, however, they can be "debunked" with a proper explanation. I know you're asking yourself, what myths could possibly exist in real estate?
All Real Estate Agents Are The Same
One of the most common real estate myths is that all real estate agents are the same. This myth can lead to buyers and sellers making big mistakes when selecting a real estate agentto represent their interests. Every agent has different skills, different experience levels, and different traits.
For example, a real estate agent who has been selling real estate for two years and primarily works as a buyers specialist is not going to have the same skill set as a real estate agent who has 20 years of experience and focuses mainly on Listings. There is a significant difference between real estate agents who work with sellers and real estate agents who specializes in working with Buyers.
Real Estate Agents Make Lots of Money
I mean, they certainly can but doesn't necessarily mean they DO. Just like any other job or business the amount of time, effort, and money that top producing real estate agents need to put forth is significant. Don't forget they also have to pay lots of fees (MLS listings, signs, advertising, office fees, lock boxes, assistants, etc. Commission does not go straight into their pocket)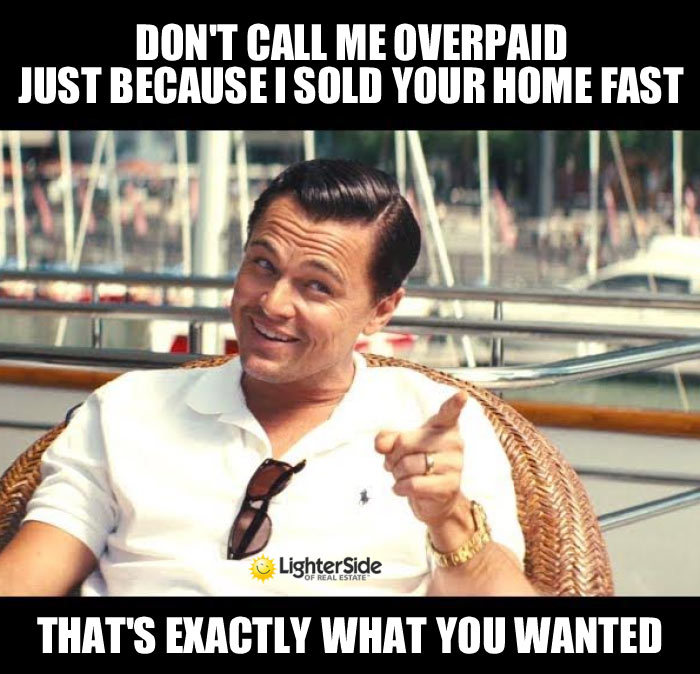 When Selling a Home - Price It To Leave Room For Negotiations
Correctly pricing a home is one of the top 3 important things when selling a home. There are several real estate pricing mistakes that sellers commonly make. One of these common pricing mistakes also happens to be a very common real estate myth as well. You capture a majority of your potential buyer as soon as the home hits the market, if you're priced to high and plan on doing multiple price reductions your most likely buyers are not going to see your property. If you are selling your home, you need to understand who today's buyers are and what they are all about.
So before you list your home $10,000 higher than your real estate agent suggests to leave room for "negotiating," you need to understand that most buyers will know it's over priced and may pass on looking at your home.
You Get A Better Deal When Buying a Home Through The Listing Agent
Buying a home can be a complicated process, especially for a first time home buyer. It's imperative that when buying a home, you have a great real estate agent representing your best interests. A common real estate myth is that when buying a home, using the listing agent will result in a better deal on the home. The thought process behind this myth is the listing agent will cut their commission percentage because they are receiving both "sides" of the transaction. Sounds like an ideal scenario for a buyer, right?
Wrong. What a buyer may not understand is that the listing agent is also still representing the seller. While they do need to be honest, fair, and ethical to all parties and certainly there are real estate professionals out there who can be trusted to represent both parties, it needs to be understood that the listing agent still has to represent the sellers best interest as well.
If you use a listing agent to buy a home, consider how hard the listing agent is going to negotiate the price with the seller, who also happens to be their client. Same goes for any negotiations from the home inspection findings. It's possible by using the listing agent a better deal could be had, however, the biggest consideration that needs to be taken into account is the representation that will be received.
Getting Pre-Approved Is Done After Finding Your Perfect Home
One of the hardest myth to break for real estate agents relates to financing. Many home buyers believe that getting pre-approved doesn't need to take place until they have found their perfect home. This is a huge mistake for many reasons.
A buyer should be and want to be pre-approved for a mortgage before they house hunt. House hunting can be time consuming, exciting, frustrating, and many other things. Before getting involved in a full out search for that perfect home, eliminate the chances of any disappointment down the road by getting a pre-approval from a mortgage lender. A buyer can be devastated if they find a home they love, write an offer, and have it accepted only to find out in the future they have been declined for a mortgage. It also eliminates the issue of looking at homes above your approved amount, eventually leading to further disappointment.
Another reasons why a buyer should get pre-approved for a mortgage before finding their perfect home is in the event their perfect home is receiving multiple offers. A multiple offer scenario is a dream for a seller and a nightmare for a buyer. A buyer who has been pre-approved has a significant advantage in a multiple offer scenario.
Open Houses Sell Houses
Many sellers love the idea of their home being open every Sunday. A common real estate myth is that an open house is a great way to sell a home.
You're probably asking yourself why many real estate agents push open houses. When interviewing potential Realtors to sell your home, ask them why they want to hold your home open every Sunday. If the answer is because it will sell your home, you may want to reconsider hiring that prospective Realtor.
The primary reason why a real estate agent would swear by open houses is because they see them as an opportunity to pick up new clients. It's possible that a buyer walks through an open house and does not have a real estate agent they're working with. This is a great opportunity for the real estate agent to convert the potential buyer into a client.
Before deciding whether an open house is something you would want to take part in when selling your home, consider all the possible drawbacks of an open house.
Selling A Home "For Sale By Owner" Saves Lots of Money
The main reason sellers believe that selling their home "for sale by owner" (FSBO) is a good idea is because it will save them lots of money. This is a common real estate myth. Many sellers who attempt to sell their home FSBO believe that selling homes is easy. It would be great if selling homes was as simple as putting a for-sale sign in the front yard of a home, input the home into the MLS, and watch it sell, but it is not.
FSBO's often will end up losing money by not hiring a professional real estate agent. This could be due to several different reasons. Did the FSBO overprice their home and it didn't sell for 6 months? Was the transaction mishandled ending up in a buyer being declined after 3 months under contract? Did the FSBO not know how to negotiate the best price and terms for their home?
Real Estate Agents Only Can Show Their Own Companies Listings
Real estate agents who belong to their local real estate board and MLS have access to any listing that is multiple listed. A common real estate myth is that real estate agents can only show their own listings or their own companies listings. This is false.
Real Estate Agents Say And Do Anything To Make A Sale
Real estate agents are held to a very strict code of ethics and also many rules and regulations. Many believe, however, that real estate agents will say and do anything to make a sale, because they don't get paid until a home closes. This real estate myth can certainly be possible as there are real estate professionals who will say and do anything to make a sale, however, the majority of real estate agents will not.
Most real estate agents business relies heavily on referral business, word of mouth business, and repeat business. A real estate agent who blatantly lies to clients just to make a sale, is unlikely to receive any of the above mentioned business. When buying or selling a home, it's extremely important to select a very trustworthy real estate agent who you can trust and are comfortable with.
A Home Doesn't Need To Be Prepared For Sale
The real estate myth that homes don't need to be prepared for a sale can cost a seller thousands of dollars. Properly preparing a hom
e for sale can be the difference between it selling in a relatively quick amount of time or it sitting on the market and developing a
negative stigma. It's very important that you don't list your home before it's ready.
Why is it important to prepare a home for sale? First and foremost, today's buyers are more often than not looking for a home that is move-in condition. Additionally, the first 3-4 weeks on the market are the most critical. If a home is priced properly, prepared properly, and marketed correctly, it should be under contract in the 3-4 weeks on the market. Simple preparations, such as staging tips, general cleaning, minor improvements, and pre-listing inspections can all help minimize time on market while maximizing the sale price.